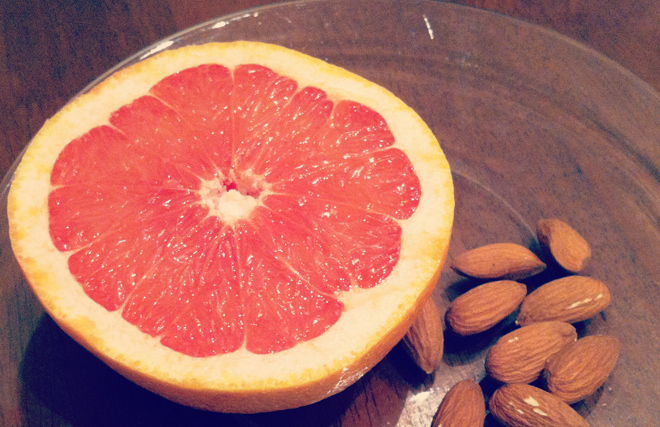 I frequently get asked about healthy snack options. When we're on the go, It's not always easy to find a healthy snack in a vending machine, gas station, or coffee shop that will give us the nutrients our body needs to go on with our busy life. I recommend having 2 to 3 small snacks throughout the day to keep the metabolism up and prevent overeating at meal times. A good snack should be a good balance between complex carbohydrates* to give you a good energy boost and protein to keep you full longer. Here are some delicious snack ideas that I like that will hold me over until the next meal and won't take much time to prepare:
Celery sticks with 1 Tablespoon nut butter of your choice (Make sure you get a natural kind and not one with added sugar. Ingredient list should only read: nuts, That's it!)

2 Tablespoons raw nuts

2 hard boiled eggs

Your choice of vegetable(s) with 2 Tablespoons hummus

1/2 cup shelled edamame sprinkled with sea salt

1/2 apple or 1/2 banana with 1 Tablespoon nut butter and sprinkled cinnamon

1/2 cup nonfat yogurt with 1/2 cup berries and/or 1 Tablespoon ground flax seed

3 oz (about 1/2 cup) steamed sweet potato with 2 Tablespoons goat cheese

1 oz smoked salmon on top of seed crackers (I make my own, but I buy 'Mary's Gone Crackers' when I don't get to baking) and sprinkled with black pepper

2 Tablespoons goat cheese with seed crackers (One serving is 13 crackers) or cut up vegetables

Mix 2 Tablespoons nonfat greek yogurt with any herb and/or spice (I make mine with dill and black pepper) to create a dip and enjoy with carrot sticks or cucumber

1 string cheese (part-skim) and 1/2-3/4 cup of berries

1/2 cup cooked oatmeal (you can prepare this ahead of time and store in the refrigerator for later) topped with 2 Tablespoons chopped nuts and cinnamon
I know you might think these portion sizes are very small. These will obviously vary depending on each individual's calorie needs for the day, but these are the average serving sizes. Just remember, this is only a snack, not a meal. Although all these snacks are healthy, portion control is always something to consider. This goes for beverages as well, they count towards your daily calories and sugar intake if drinking something sweet. Drink lots of water and herbal tea to stay hydrated. If you don't like the taste of water you can squeeze some lemon juice in it or add cucumber or fruit to give it flavor.
Trust me, you'll feel way better after having one of these energy boosting snacks and won't be inserting all the empty calories and high amounts of refined sugar that other snacks out there contain. Try having a healthy snack with you at all times to avoid going for something packaged that will do your body no good.
* Complex carbohydrates are those that are not refined and take longer to breakdown, keeping your blood sugar balanced. These are found in whole grains, legumes, and starchy vegetables like sweet potatoes and carrots. 
Orange bell peppers and cherry tomatoes with 2 Tbsp goat cheese sprinkled with fresh ground pepper and dried basil leaves